Designer Spotlight: Roberto Coin
October 15th, 2023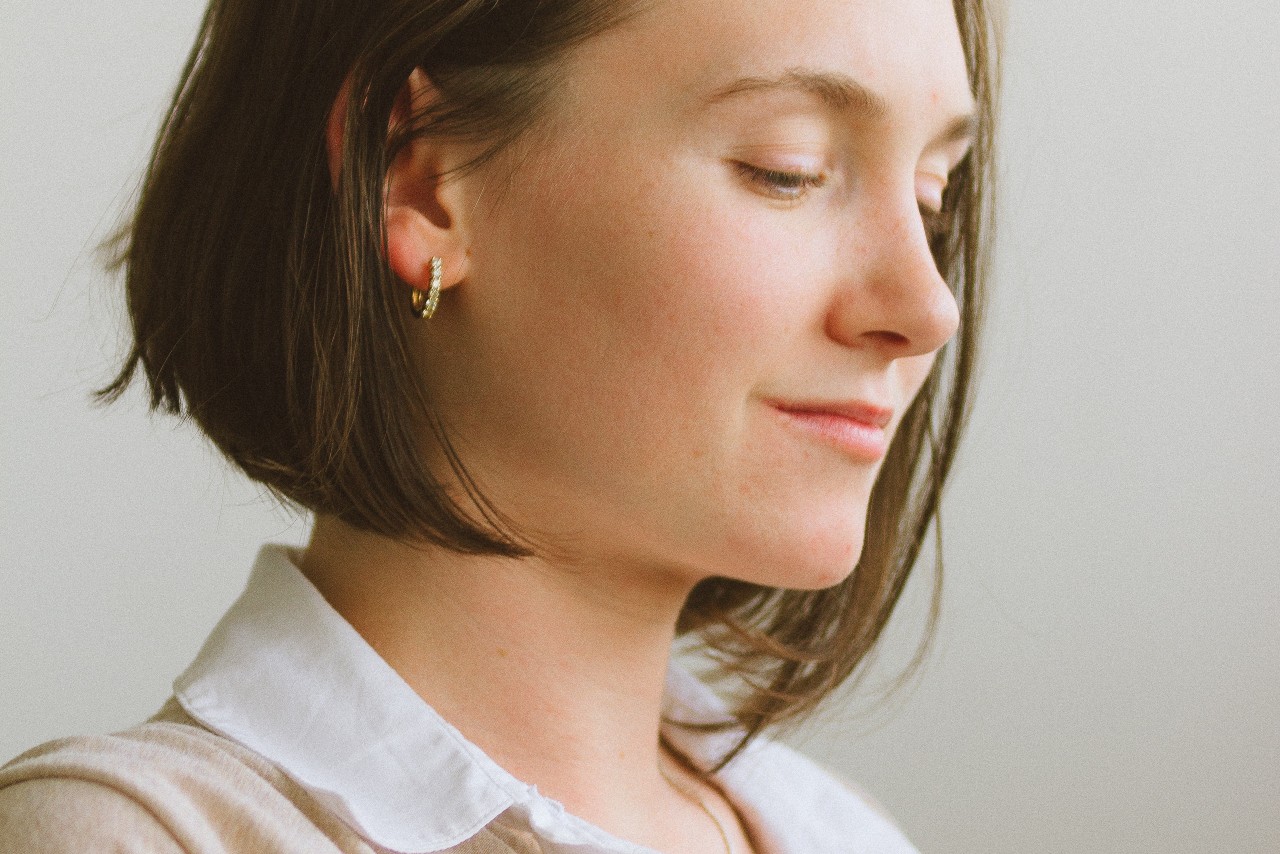 In the heart of the Dominican Republic, there lies a dedication to excellence and artistry that few can match. Our thorough approach to curating an outstanding inventory sets us apart here at Chrono. Only brands that resonate with our unwavering commitment to quality and passion for true craftsmanship grace our showcases. This is precisely why we are elated and proud to feature a collection from the renowned designer, Roberto Coin. His designs, known for their complex details and time-honored elegance, manifest the very core of art and luxury. At Chrono Jewelry, we believe in offering nothing but the best for our discerning clientele.
About Roberto Coin
In the realm of fashion jewelry, few names evoke the elegance and artistry as that of Roberto Coin. Since its inception in the 1970s, the brand has been deeply influenced by the romance and allure of Italian culture. Each creation carries a signature touch - a hidden ruby, symbolizing love and passion, embedded within. Beyond this unique mark, the designs stand out with intricate motifs and an unwavering dedication to craftsmanship. While many trends come and go, Roberto Coin's enduring collections remain a testament to an eternal dance of beauty and innovation.
Layerable Necklaces
Craftsmanship shines brilliantly in the diverse array of necklaces by Roberto Coin. Perfectly layerable, these pieces present a symphony of lengths and chain types, inviting wearers to experiment with combinations and styles. Luxurious gold casts a timeless, radiant glow, resonating with every complexion. Beyond the lustrous chains, there are the bold, colorful pendants, each echoing the brand's dedication to artistry and its iconic motifs. Wearing one is not just an act of embellishment, but an embrace of wearable art that elevates any outfit.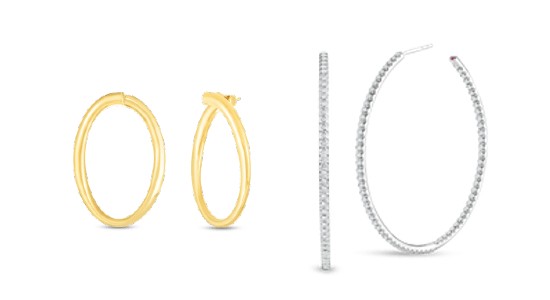 Sleek and Stylish Earrings
Draping elegance from every ear they adorn, the earrings by Roberto Coin are masterpieces in miniature. They echo the brand's commitment to sophisticated design with their sleek and stylish aesthetics. The defining features include sharp, geometric shapes that effortlessly capture light, drawing attention and admiration. Diamond accents, meticulously placed, further heighten the allure, twinkling with every movement. These earrings not only mirror the brand's iconic artistry but also its inclination for modernity blended with definitive charm. In every pair, there's a whisper of Roberto Coin's signature elegance and innovation.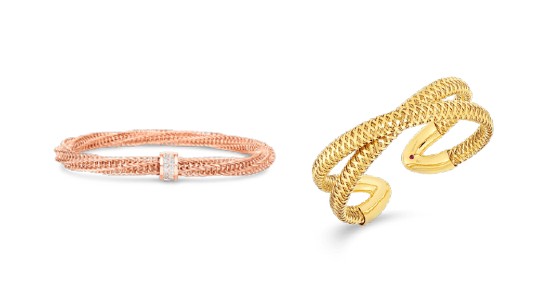 Glittering Bracelets
Exuding an air of sophistication, the bangles and stretch bracelets from Roberto Coin are versatile additions to any jewelry collection. Wonderfully adaptable, they seamlessly complement a myriad of ensembles, from casual daywear to the most refined evening attire. A standout feature of many pieces is the brand's signature flower motif, distinguished by its four pointed petals. This motif, both delicate and bold, encapsulates the essence of Roberto Coin: where every piece is a testament to timeless artistry.
Iconic Fashion Rings
Those looking for an accessory that demands attention can look no further than Roberto Coin's inventory of fashion rings. Wide bands make space for plenty of intricate details like metalwork, diamond accents, colorful gems, and attractive motifs. Their rings are phenomenal for creating a cohesive stack, as a similar design thread runs through them all, great for mixing and matching. Repeating patterns and twisting bands ensure these pieces are rife with movement and visual interest.
Shop Roberto Coin at Chrono Jewelry
For those with an eye for elegance and a penchant for timeless designs, look no further than Chrono Jewelry. Our pristine Santiago De Los Caballeros jewelry store is a treasure trove of exceptional pieces, including creations by renowned designers like Roberto Coin. Each curated selection embodies our dedication to quality and unparalleled artistry. There's truly no better destination to find pieces that resonate with style and sentiment. Elevate your collection with jewelry that speaks to your soul. For a deeper dive into our offerings, don't hesitate to contact us for more information about our selection or services in our Dominican Republic jewelry store.